Social Media Manager – NMRA Australasian Region
Born in Newport South Wales UK, my family then moved in 1971 to Durban South Africa as my Father was offered a job with the South African Navy.
As the political situation in Southern Africa was not very friendly at that time my parents decided to move in 1976 to Australia.
Lived in Melbourne (Fern Tree Gully) from 76 until 93 when I met my wife (Mary) and moved to the Gold Coast.
Currently we have no children (that I know of) but are very active with the King Charles Caviller Rescue service in Queensland and have 2 (spoilt rotten) fur kids along with a large train collection.
I completed an apprenticeship as a technician class electrician at Nissan Motor manufacturing. While at Nissan I completed a degree in electrical engineering specialising in manufacturing automation at RMIT. Since then I have worked for Honeywell & Landis&Gyr and then taught electrotechnology subjects at Gold Coast TAFE. Currently I am employed a Senior Electrical Safety Inspector with the Queensland Justice Department.
Unlike most railway modellers I did not get my start in model railways until I was in my 40's. Up until then my hobby was playing percussion in a number of different bands and orchestras both in Melbourne and Queensland. I guess I have been in everything from a highland pipe bands to a top40's cover bands.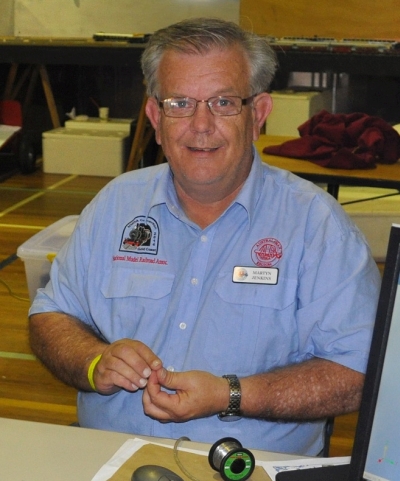 I was drawn into the model railway hobby as I always had an interest in scale carnival ride models. Therefore my first foray into the hobby was to build a scale model of the travelling carnival that is located on the Rye foreshore in Melbourne at Christmas each year. One trip to the old Trainplace in Wolffdene a large O scale layout converted me, and now model trains have become an addiction. Since I spent a lot of time on Melbourne trains in my youth I decided that was the prototype to model VR & V/line in 1983. The layout I am currently building resides in an insulated and air conditioned train shed (a must for Queensland) which is 8.5M X 5.2M it is based on the bi-directional line between Newport and Geelong in 1983.
I have been a member of the NMRA since 2008 and have been the Div1 Superintendent since the tragic loss of Glenn Stevens.
I believe the NMRA is a great breeding ground for inspiration and knowledge in the hobby as well as providing friendship with like minded people.
My aim with the NMRA is to foster the goals that Glenn had achieved within division1 and to see the division and region grow and prosper.
Martyn Jenkins